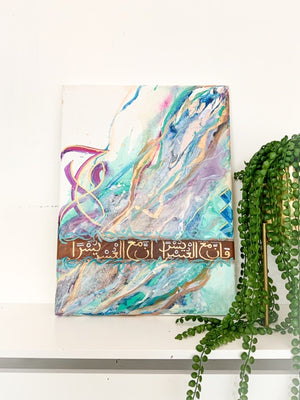 Transcendence: "Better days will come" 12 x 16
Sale price Price $259.00 Regular price Unit price / per
The contrasting colours in this painting symbolise Difficulty and Ease. The jagged lines serve as reminders of hardships, and the golden lines as a promise of better days to come.
This is one of my favourite verses in Surah Inshirah. It always soothes my soul, especially when things seem too hard and I feel as though I am overpowered.  The meaning of this verse is: "So, verily, with every difficulty, there is relief. Verily, with every difficulty, there is relief."
The calligraphy is written in Maghrebi Script, of the Marinid style.
Created as part of The Transcendence Collection
Original mixed-media artwork, painted in 2023. Acrylics on canvas, 12 x 16 inches 

SHIPPING - Please select small painting at checkout. For local pick up, please select at checkout.