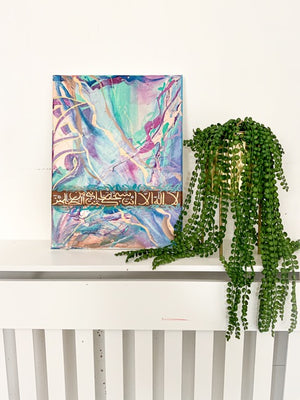 Transcendence: "Total Submission" 12 x 16
Sale price Price $259.00 Regular price Unit price / per
The movement and colour palette were chosen to tell the story of the verse scripted. This was the prayer of Prophet Yunus (AS), whilst he was stuck in the belly of the whale.
The meaning of this verse is: "There is no deity except You; exalted are You. Indeed, I have been of the wrongdoers."
The calligraphy is written in Maghrebi Script, of the Marinid style.
Created as part of The Transcendence Collection
Original mixed-media artwork, painted in 2023. Acrylics on canvas,12 x 16 inches

SHIPPING - Please select small painting at checkout. For local pick up, please select at checkout.