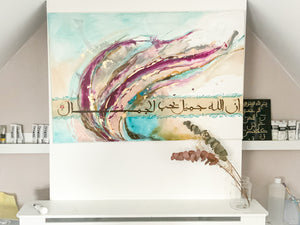 Transcendence: "Lover of Beauty" 24 x 36
Sale price Price $917.00 Regular price Unit price / per
Dreamy pastel tones and hues, with a pop on quinacridone magenta. This painting captures the quiet, the serene. The colours symbolise femininity, and a celebration of beauty. The beauty that is within and without. Inner and outer. 
The flowing movement captures spontaneity, and beauty which lies in being free. The kind that is free from restraint.
The calligraphy written here is a Hadith of the Prophet SAW: "Indeed Allah is beautiful, and He loves beauty."
The calligraphy is written in Maghrebi Script, of the Marinid style.
Created as part of The Transcendence Collection
Original mixed-media Artwork, painted in 2023. Acrylics on canvas, 24 x 36 inches 

SHIPPING - Please select large painting at checkout. As each of these paintings differ in size, shipping will be calculated on a case by case basis. After purchase, you will receive a separate invoice for freight pricing, if your order is international. This is subject to location. For local pick up, please select at checkout.